Camp for children from 6 to 14 years old
La Fondation Bon départ Canadian Tire du Québec provide a camp experience in both summer and winter. In order to participate free of charge in the Foundation camps, children must be referred by  CISSS / CIUSSS,  a youth  organization or by a Canadian Tire Dealer.
Respite and camp for clients with special needs
This program is intended for children aged 6 to 21 and adults aged 22 and over living with an intellectual disability (ID), an autism spectrum disorder (ASD), a mental health problem or multiple deficiencies. It is offered free to all without the need to be referred.
Those programs are offered in French only.
Here, nature has given us its most beautiful gift!
La Base de plein air Bon départ consists of 5 beautiful lakes, many kilometres of hiking trails, mountains, and above all… thousands of smiling children, groups, families and people with special needs. Complementing the natural beauty, we offer modern and functional buildings, located in three independent reception areas designed to host different types of clientele simultaneously. You will see that the experience we are offering brings a feeling of happiness… in its purest form.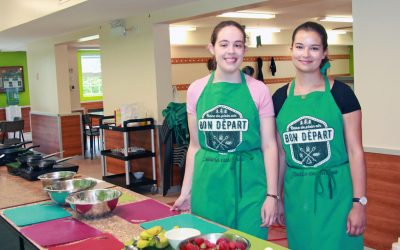 Promouvoir les saines habitudes de vie est l'un des objectifs de la Base de plein air Bon départ. Oui, l'activité physique est une bonne façon d'atteindre cet objectif, une saine alimentation en est une autre. C'est pourquoi depuis maintenant une dizaine...
read more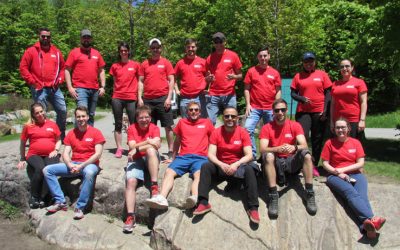 Nous tenons à remercier chaleureusement la firme BDO pour leur coup de main bénévole du 6 juin dernier.  Ils étaient plus d'une quinzaine d'employés à mettre la main à la pâte lors de cette journée pour peinturer, fendre du bois, monter des tentes et...
read more